You have an appointment in La Défense at a specific address, but the pedestrian paths are such that the entrance of the building where you must go has nothing to do with what Google Map, Plans or HERE WeGo tells you?
You are waiting for the delivery of an urgent parcel, but how can you tell the deliverer which entry he will have to use among the four accesses that your industrial site has? And how to direct him to the entrance of the good warehouse?
On the brand new R&D campus of this multinational, you were given a plan to access the entrance of the building where your contact awaits you. Despite this, you have been walking for ten minutes looking for access to the Blue Building Topaz. The signage has really to be reviewed …
The weather is nice and you decide to meet for a picnic with friends on the lake Daumesnil or in the forest of Fontainebleau, but how to clearly indicate the place of the appointment?
You might also have faced similar problems in a village whose streets are neither numbered nor named, or in a city where addressing is done in blocks rather than by streets. The UN estimates that 4 billion people do not have a reliable means to designate their home.
To provide an answer to all these problems, what3words provides a way to very simply define the position of any place, and share it without any risk of error with those who need it. They divided the world into 57 trillions of 3m x 3m squares and assigned to each of those a unique combination of 3 words. Better yet, what3words will use your language. Well… one of the 14 languages ​​currently offered, others are planned to come soon, like Korean, Norwegian, Greek, Indonesian and Malaysian. Or you can use the language of the person to whom you want to transmit a geographical position to get the 3 magic words that will allow you to succeed your picnic or receive your visitor at the right address.

There are many applications: Navigation and Mobility, Automotive and Transport, Deliveries, Logistics and E-commerce, Postal Services, Travel and Tourism, National Infrastructure and Government, Unmanned Aerial Vehicles, Humanitarian Aid, Emergency Services, Events, Property Management, GIS.
What3word provides a mobile app on IoS and Android, and can also be accessed from their website. They also offer access to developers from APIs. This is what the Navmii navigation and navigation application did.
Of course you can always exchange geographic coordinates, but, once you are sure that you share the same geodetic system, is it easier to give an appointment tosublet.metro.payback (https://map.what3words.com/sublet.metro.payback) or 48.858614, 2.293887? From the app, you can start guiding with Maps, Google Maps, Waze or Citymapper.
Countries such as Ivory Coast, Djibouti, Tonga and Saint Martin have adopted this addressing system. This is also what companies like Aramex or Deliver Addis do for their deliveries.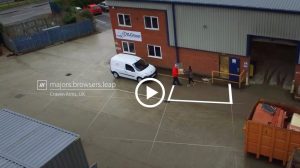 Deutsche Bahn, meanwhile, have just concluded a partnership supported by an investment (100 million euros by 2019) with what3words. Let's bet that this will be a fundamental step to develop this universal addressing system, and that this will allow an acceleration of this British startup, co-founded by Chris Sheldrick and three other associates.
When is a system such as this one accessible also Indoor?
Meet them also on Twitter @what3words, @ChrisSheldrick2, and on facebook
Post originally published on LinkedIn on April 26th, 2017